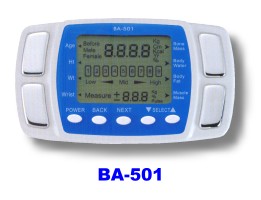 Do you know your body?
One step process to measure bone-mass, water,fat, muscle and Calorie-use
Decrease in bone-mass and water is the cause of ageing
Bone-mass *Water *Fat *Muscle *Calorie are the indicators of body health
Using BA501 Body Analyzer:
*3 AAA batteries
*You input gender, age, body weight, height, and perimeter of wrist.
*Input metric measures only.
ˇ@
ˇ@