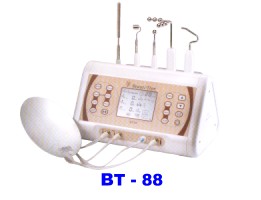 Incredible Skincare with new BT-88
*This non-surgical treatment device stimulates muscles and skill with micro-electric current to smooth-out wrinkles. The skin gets conditioned after some continuous use.
*Ion Functions use the voltage theory and EMS(Electrical Muscle Stimulation) technique. Use of positive ion to removes the dirt, oil and other impurities on face and body.Use of negative ions inducts the water-soluble skincare nutrition to penetrate deep inside
the skin.
*The temperature is set between 32"C-46~C by user. The warm effect can activate the body muscles and skin cells to enhance the treatment effects.
*3-grade vibrating mode lets user find most personal satisfactory level. By massaging the body's lymph system and facial skin with probe, the lymph glands are activated and metabolism is improved.
*Easy to read and accurate moisture tests show before and after treatment skin conditions.
*With practical and user friendly treatment programs, user can quickly develop customized parameters and select one of the built-in programs that work most effectively for him/her.